The Foundation for the Lives of My Children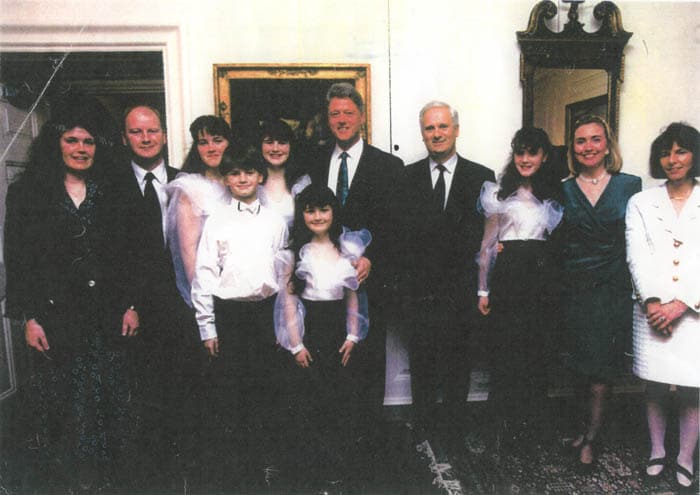 I am a Registered Nurse who has worked in NYC Emergency Rooms for nearly 30 years. Shortly after having my second daughter in 1979, I heard about the How To Teach Your Baby to Read program and ordered a kit.
I soaked up all the info and used it with 2 of my daughters.  One of my daughters, Christina, breezed through school all her life and was the youngest person ever to graduate from Fordham University at age 18.
After college, she toured Europe for a year and signed to Universal Music with her siblings as a musical group, The Spirits of Gilbride. In 2002, she became the youngest graduate of Pace Law School at age 22. (She and her siblings have many awards for community service and have also worked with NYC councilman Koppell on political campaigns.)
Christina is now married and has a baby. I am buying the reading kit now for her to use with her child.
Did I mention in there that at age 5, Christina was run over by a teenage drunk driver and was mangled? She spent a year in a wheelchair after a lengthy hospitalization and months in a body cast. But I believe because of the Glenn Doman course, she never fell behind at school. She just picked up what she missed like a sponge and went on.
My other daughter, Corina, with whom I used the method, found music comes to be easy for her.  She can play thousands of songs from memory. She has never used sheet music in performance. By the time, she was 7, she was winning national competitions in piano and dance. At age 11, she got her first standing ovation for singing and playing piano in a Canadian arena with an audience of 5,000 people. At age 12, she was performing in an Off Broadway musical. At age 13, she was competing internationally in step dance. At 14, she was playing violin with the Interschool Orchestra of New York. At 15, she played the piano at the White House. At 17,she and her siblings were playing Disney and on tour all across the US/Canada (including Cape Breton and Alaska). At 18, she was the solo vocalist on composer John Barry's "Swept From the Sea" soundtrack CD. At 19, she and her siblings were signed to Universal Music and brought out a European album in 2000.  In 2002, Corina became a pop singer in Ireland and was on the Irish music charts with several of her self-penned songs and Christina managed her career. In 2005, Corina and Christina came back to the US and got a song on the "Sex & the City" commercial and Corina was on the NBC show, America's Got Talent.
Currently, Corina is working with composer Frank Wildhorn (Jekyll & Hyde) who she was introduced to by David Hasselhoff.
Did I mention that Corina also had setbacks along the way?  But she always managed to keep herself together. Her best friend was murdered when she was 13 in an act of domestic violence and Corina also contacted Lyme Disease which left her completely debilitated for a time until doctors figured out what was wrong with her.
Somehow I always felt that the early lessons of learning not only made learning easier for my children but somehow gave them a confidence not only in themselves but in life itself. When things were bleak, they would get better.
Did I mention that there are 3 younger siblings? Although they did not get the one on one program from me, the essence of it was carried out by me and my oldest daughters.
My 3rd daughter has an AAS in photography, a BS in Business and graduated from Pace Law School in 2005 at age 23.
My 4th child was a son and he could rattle off the Glenn Doman cards in reading and math as well. He is the drummer in the band, a gifted artist, and at age 20, he became an Environmental Engineer. He then went to law school for a year.
My youngest child, Mary Catherine, was playing music with the band when she was 2. It was jut the tambourine but she was good at it and eventually took up the bass guitar. She graduated from Harvard University and then had her master degree from the Columbia School of Journalism at age 21. She is a freelance journalist for several publications.  She has worked on documentaries at CBS, CNN, and HBO etc..
I know they say it takes a village to raise a child but in my case, I think the added knowledge from the Glenn Doman book, How to Teach Your Baby to Read, inspired me and laid the foundation for the lives of my children. For this, I am eternally grateful.
Loretta Gilbride Brouder, New York