Dx Trisomy 21: Joel's Success Story
One Minute of Tears,
26 Years of Accomplishments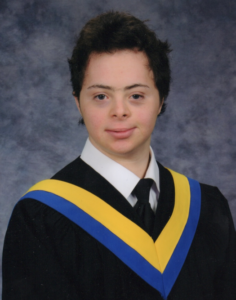 During pregnancy, my wife intuitively felt that we were going to have a child with Down Syndrome. This diagnosis was immediately confirmed upon his birth by the doctor, since one of the typical genetic markers of Trisomy 21 is a single horizontal line on the palm, instead of the usual two lines. My wife's initial reaction was "Well I guess it's the special Olympics for him!"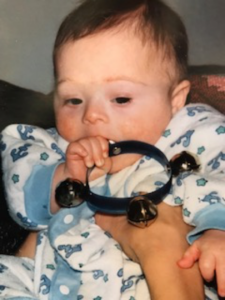 Baby Joel had a full sensory stimulation program
My immediate reaction was about one minute of tears, and then that it was time to get to work and learn as much as possible on how we could help our son.
After reading the book "What To Do About Your Brain Injured Child", we learned that there were real opportunities to help our son. This gave us both hope, and a drive to learn as much as we could about child brain development. After attending the course, we learned the science, the logic, and the successes behind The Institutes' programs. We got to meet the wonderful staff who dedicate their lives to helping children and teaching parents like us how to help them. We also met some amazing families who were just as dedicated to helping their own children in need. All of this motivated us to do all that we could to maximize Joel's potential.
The Answer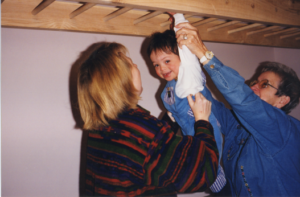 Learning how to hang in preparation for brachiation
Upon returning home we immediately changed our lives to focus on Joel's development. We began a home program of sensory stimulation and motor opportunity based on all we had learned.  Within four months, Joel had begun crawling for the first time, and was following directions like a child of 18 months or older. He was already enjoying an early reading program. Before his 4th birthday, Joel was running one mile non-stop, reading books independently, and talking constantly.
Physical Excellence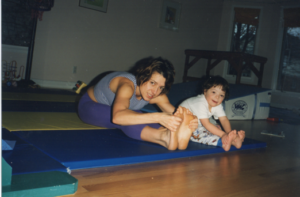 Stretching with mom
Joel is confident and capable in all manner of physical abilities. When Joel was quite young, we found that most individuals like him were not able a to ride a two-wheel bicycle. There are a lot of very quick balance decisions that are involved in riding a bike, and we credit The Institutes program for giving Joel the base to allow this to happen.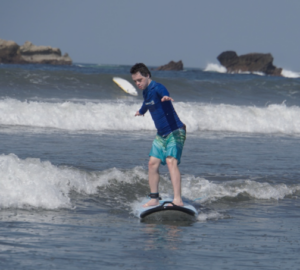 Catching a wave
We now happily go on all day bike trips and he loves it. Joel also learned to downhill ski when he was five years old, and he is now an accomplished skier who can conquer most any run. Joel also has the stamina and coordination to go on long kayaking trips, all day hikes, and even surfing.
Independence
Joel is quite independent, and we are comfortable that he can care for many of his needs. He can take public transit on his own across the city to get to his activities. And he can prepare his own meals, which are both quite tasty and healthy!
Joel achieved his adaptive Kitchen Steward Certificate from Algonquin College in 2017. His graduation was a huge accomplishment for him, which we were extremely proud of. He also worked in a professional kitchen from 2013-2020, though due to COVID they closed. He is an extremely dedicated, loyal, and detail-oriented staff member, who brings joy to his workplace. Joel is looking forward to getting back to working in a kitchen, and we fully expect he will be working again this year.
Joel is an accomplished artist and has had his art displayed in several exhibitions. His unique perspective on life has helped him develop the characters and scenes that he creates, and his art provides overwhelmingly positive reactions by people who experience his distinctive and delightful vision.
Joel's Comments
"Art is about life, growing up, and getting older. My art is very serious to me. I get my ideas from movies, rock and roll music, and family that I enjoy. When I am doing my art it feels like I am free, sometimes free falling. I just want a normal real life because love is real. My nickname is "J Positive" because I am a positive person. It makes me feel very good when people like my art."
Our Advice to Parents
Do not underestimate or put limits on what your child is capable of. If you provide the proper environment and opportunity, your child will exceed your wildest expectations. They may still take longer to reach certain milestones, however when those milestones are achieved, they will be all the more rewarding. Embrace the challenge that has been given to you, do what you can to help your child, and try not to get overwhelmed. Most importantly you should enjoy the gift of your child being in your life. It will change you in wonderful and positive ways.
About Joel's future
We are quite positive about Joel's future. He has achieved so many things that we would never have envisioned. Moreover, over the years Joel has taught us the importance of living in the moment, the perseverance required to reach one's goals, and to never underestimate our son (or other people like him). Joel's impact is now being felt all over the world by people we don't even know, through his joyful artistic creations and his online Art by J Positive store. 26 years ago, would never have imagined that result, and we are excited to see what the next stage of this journey will bring.