My Journey to Joyousness with Yuuki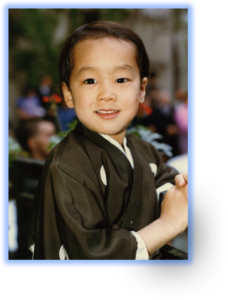 I had already been a staff member at The Institutes for 7 years when my son arrived. I was lucky because I was able to provide my son with lots of stimulation and I knew how to teach him right from the beginning thanks to The Institutes Program.
Physical Development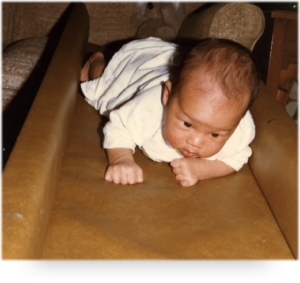 He was a big baby, and he soon grew out of the baby crawling track. As soon as he could start to move forward on the floor, he learned to push his body up on hands and knees to creep. He crept everywhere including on the floor of an empty museum with only the curators to watch him.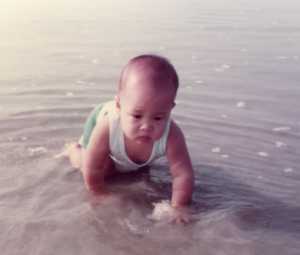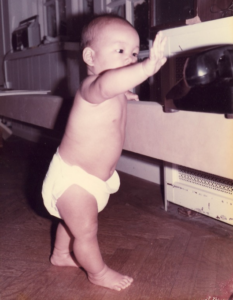 By 10 months, after lots and lots of creeping, he was able to walk.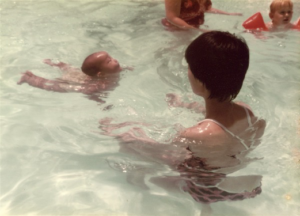 When he was only a few months old, I spent many hours in the pool with reading cards and bits of Intelligence.
At 18 months he could dive into deep water and swim to the side of the pool. At 3 years old he could swim back and forth across a 25-meter swimming pool on his own.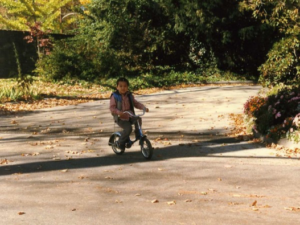 By 4 he was biking everywhere without training wheels.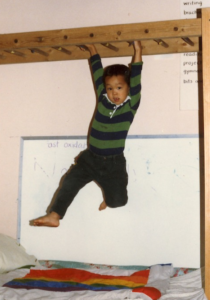 Yuuki could brachiate independently by age three
An interesting comment from a gymnastic teacher was "Other students of mine spend lots of time to learning gymnastics and practicing. I know you don't spend so much time for gymnastics because Yuuki does other things (yes, this was true!) but he is doing much better than the others without so much practice time."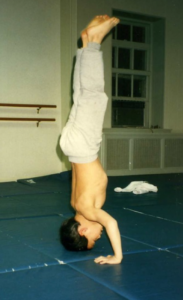 I knew this was because we spent more time on the basics of crawling and creeping, walking, brachiating, and running at an early age when he needed these critical stages in mobility.
As an adult he continues to enjoy swimming and biking. He loves physical challenges, and he is very conscientious about being physically fit.
Intellectual Development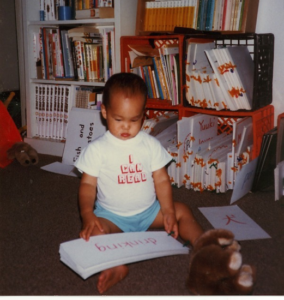 By age 2, he could read not only the words I taught him but could read almost any words shown if he already had those words in his everyday vocabulary. By 4 years old, he was able to read regular commercial books such as Charlotte's Web and other children's classics. He became fond of the Hardy Boys Series and sometimes he read Newsweek. When he was six his favorite book was James Clavell's best seller Shogun he carried it everywhere and read passages to anyone who would sit down and listen. I must say at this time the staff would hide when they saw him coming with that book! The worst punishment for Yuuki was to close his bookshelf.
His language started very early. At age three weeks when we went to a shop, a lady said "Hi!" as you would naturally say to a baby. He replied "hi", which surprised her. By two months, I was shopping for a car and went to look at one. The first car to me was a bit confusing. The friend who took us to the car dealer asked "Yuuki, what do you think about the car?" To our astonishment Yuuki replied "I buy." This made my decision.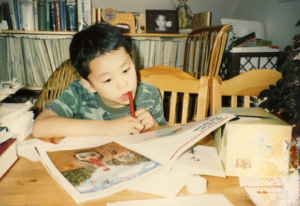 As he grew older, his vocabulary tripled and some words were very new to me, especially because English was my second language. His writing was also more sophisticated because of his vocabulary.
What is so good about those abilities?
First, and possibly the most important thing of all is – as a mother, I thoroughly enjoyed every moment with my baby. There was no time looking at Yuuki wondering "What could I do this afternoon?"  I had a long list of fun activities we could do. As Yuuki grew these activities expanded and became even more fun.
As a parent, I enjoyed seeing and being amazed by how fast the baby grows. I understood that babies grow and change in a blink of an eye. When I put him in bed each night, I was looking forward to the changes he could make tomorrow.
I was a single parent, when I needed to do errands and other things, I needed to take my son with me everywhere. I did not have problems with Yuuki complaining in the car as other mothers told me they had. I just had a box of books on the car seat. Once he was strapped in, he started picking up any of the books he liked. That was before he was reading commercial books – I made many books just right for his needs.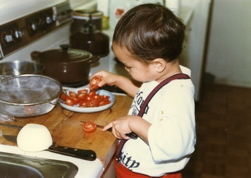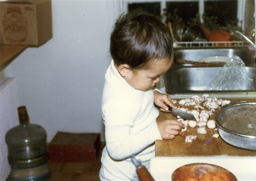 Yuuki was always happy to help in the kitchen, today he is an excellent cook.
Because he learned to read early, he read signs and notices without me needing to explain them. He seemed to have more independence and his judgment was very good. As he grew to be 9 or 10 years old, he became my teacher, teaching me better English.
School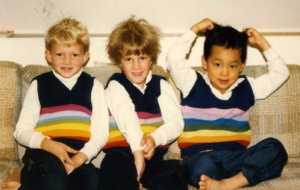 Yuuki with his classmates Neal and Adam
He attended The International School of the Evan Thomas Institute. There he expanded his knowledge of subjects he already knew natural history, mathematics, English, music, and gymnastics. He began to learn computer programming and became very skilled in programming by the time he graduated. Since his Japanese was fluent, he helped to teach Japanese and did so with enthusiasm. He participated each year in the ETI swimathon and triathlon (¼ mile swim, 10 k bike, 3 m run) by the time he graduated he could complete this is an hour. At age six, he performed the part of Poo Bah in the Opera The Mikado.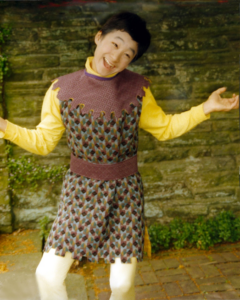 Yuuki plays the Jester in Shakespeare's As You Like It
And each year he played a role in a full production of Shakespeare. His specialty became old man parts – he was a wonderful Polonius in Hamlet. He also played the piano and was part of many concerts and performances given by The International School. Yuuki was very outgoing and always had a great sense of humor. His classmates embraced him as the official class jester.
Social Growth
When he graduated, he chose a private high school. As Yuuki grew up and became a teen, it seems all parents come to a time of "I don't know what my child is thinking." I never worried so much because whenever he needed something he would come to me and tell me what he needed.
In high school one of the younger students had problems in reading and learning. He made proposals to the teachers as to what they could do to be more effective in teaching the child – enlarge the print. The teachers followed his proposal and enlarged all their materials for the student. He always had a very good relationship with his teachers.
His writing was always good, and I was told so even when he was in high school. When he had an interview for entering graduate school, one of the professors came to see him he had read something Yuuki had written and wanted to meet him. He deeply values words. He taught me how to write better and more succinctly. When I had to write officially, he edited my work with many red marks.
High School and University
He received a full scholarship for all four years of high school, and the school gave him an award for his college tuition. This was very helpful to a single mother.
One of the high school teachers approached me one time saying that the relationship with Yuuki and me was clearly very close while many students had very poor communication with their parents.
My experience teaching my own child taught me that it was not only for my son, but very much for myself. I learned so much about human development through Yuuki as a clinical member of the staff of the Institutes. Every child is so smart. It is not just that he gets information. It is not how well he learned or memorized. The most important part is that he can solve problems and see a few miles ahead. Like everyone, he struggles and faces the problems in front of him. But when this occurs, he can resolve these problems intellectually and with kindness and humanity.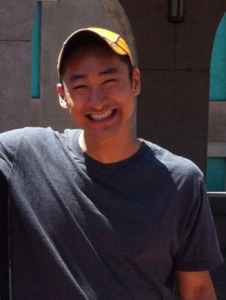 He has just completed four years of work and successfully been awarded his PhD. Recently I attended his graduation to receive his degree at Cornell university. He received awards and gave a speech, which made us proud. However, the most rewarding moments for me were when one of undergraduate students came up to Yuuki and thanked him saying without his coaching, she would have never graduated because she was struggling. Several of his students came to thank him.
Even though he had to focus on his thesis, taking hours every single day and night, he still took the time to give his students the care they needed to succeed.
My Advice
Never bore your child. The time is short before you hand him your baton and have him run his own. If you don't know how to spend time with your kids to raise healthy, capable, compassionate human beings, peek into The Institutes. Your idea of how to raise your children will certainly change dramatically.
Through enjoying those intellectual, social, and physical pursuits, I believe you are building up lots of good and happy memories of your child's life.
As a parent, it is inevitable to sometimes worry and think "What I could do, or should I do better for my child?" I would not say you can eliminate all those concerns by teaching your child at home. However, it is so important to know that you are doing something together and having a wonderful time with your child. It creates a deep relationship.
Your enthusiasm and happiness will resonate with your child. Your child will proceed confidently and whatever your child chooses to do in life they will do with enthusiasm and happiness.
Dr. Nakayachi
By the way, to you, a Japanese mom or mom like me, who is very enthusiastic and tries to teach EVERY thing in the world as your responsibility, I have one piece of advice:\
You do not have to teach EVERY thing. The first priority is for you to enjoy whatever you are doing and give your joy to your child.
Having fun is the most important element of this entire road – all the rest is a very beautiful side effect!
Best wishes to you and best of luck to all parents!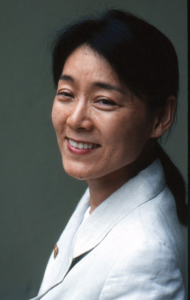 Miki Nakayachi
Vice Director
Institutes for the Achievement of Intellectual Excellence