Dx: Autism and Developmental Delay – Krishna's Success Story
Dad tells Krishna's Story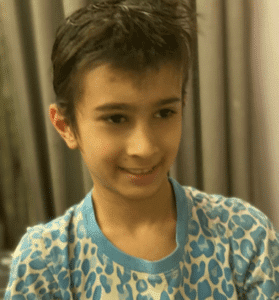 Krishna today
We know exactly how tough and confusing it is to be parents of a non-verbal and hyperactive child, especially in the early stages. If Krishna's story can help or inspire any parent or child, we will be happy.
I remember Krishna's birth like it was yesterday. My wife went into labour on a Friday at lunch time. Krishna was born the following day on at 11.42 am after 41 weeks pregnancy. My wife was in labour for 22 hours but she gave birth naturally but had to be induced.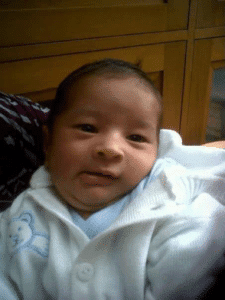 Baby Krishna
Krishna was a healthy baby boy. We noticed that he had good eye contact and was mobile. Krishna's motor development appeared normal, including sitting up at six months old, crawling at nine months old, and walking independently at fifteen months old. At his first birthday, he started calling me "papa" which was his first word.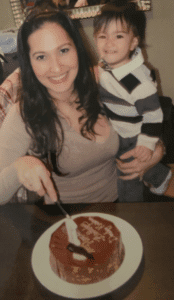 Krishna celebrating his first birthday
At 18 months, he was counting and singing. He could call "mama" and "papa". He could request and point with his index finger and by two and a half years old, he was able to speak in short sentences in both English and Indonesian. He could identify and say his body parts. He breastfed until he was 22 months old.
At 2 years he started to regress
At the age of 24 months, after he was vaccinated, we started seeing a regression in his development. The symptoms were obvious. He was speaking less, had more tantrums, was often staring outside of our windows and would repeat his actions often, such as running around in circles and climbing up and down the stairs. His hyperactivity which he had from a young age worsened.
This was also the time we started to get complaints from his school. The teacher said that he had trouble paying attention in class, occasionally trying to run out of class. He had also bitten his classmate. He was around 3 and we thought that we should change schools as the teacher was not motivated to teach Krishna.
We needed to think "out of the box"
We applied to another kindergarten and Krishna was called for an assessment. The principal of this school saw Krishna and instantly told my wife that there was a problem with him and that he could not be admitted to her school. During the interview, Krishna was running around and could not follow simple instructions. My wife came home distressed and we had to deal with the fact that Krishna would have challenges to be admitted to schools and we needed to think "out of the box". However, at this time, we were still hoping that his problems were only speech and with a miracle, he would start speaking by the age of four.
Krishna was often angry and miserable
After the disappointment of being rejected by 2 schools, we enrolled him at a Montessori school where the principal was very affectionate and supportive of Krishna. We also started sending him to speech therapy and occupational therapy in the afternoons. He was often angry and miserable at the speech classes. He would often shout, cry and try to scratch the therapist. As he was hyperactive, he enjoyed the OT classes more. We had also consulted several pediatricians and then neurologists and also a holistic doctor but none of them were much help. One pediatrician wanted to prescribe medication for Krishna "to calm him down" which was a big shock for us. We never returned to this doctor.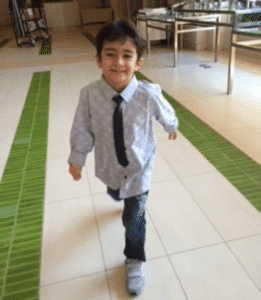 Krishna Age five
Krishna became more introverted in the Montessori school as he was almost 5 and the only child in the class who did not speak. He would only play with one boy who understood him. By this time, he had almost no speech. We decided to enroll him in a well-known international school here with a special needs program.
In order to be accepted to this program, the requirement was that Krishna needed a multidisciplinary assessment report that was only available in Singapore. We went to Singapore for 10 days in order for Krishna to be interviewed and assessed by a team of pediatricians, clinical psychologists, occupational therapists, Clinical Psychologists.
Therapists always focused on the things that Krishna could not do
However, they always focused on the things that he could not do which was annoying for him and for us. It was tiring and disappointing. They would keep Krishna in a small room for about 2 hours and ask him to perform tasks. They also wanted us to see an audiologist which we did. The results were positive, his ears were fine. This clinic wanted us to see eye specialists because of his convergence. He was prescribed glasses.
We received a 25 page assessment report which basically said that Krishna was experiencing significant developmental delay and he was in the autistic spectrum.
Could they unlock Krishna's potential?
With this report, we were accepted in the special needs school that used this report to plan his program. In this school, Krishna had speech therapy, physical education, occupational therapy on a one on one basis. We were hoping that this school could unlock Krishna's potential. It was up and down here, where Krishna had his good and bad days. We really wanted Krishna to feel like a normal child and experience going to school and having friends.
They recommended medications
After a year, we were getting complaints from the teachers as Krishna would often try to scratch, bite or not cooperate. We decided that it would be best to leave and find other solutions, when we had a meeting with the principal and teachers and they too recommended that we should consider medications. It was shocking to us when they told us that the other children in the school were taking Ritalin.
It was after this experience when we heard of Glenn Doman. My wife bumped into her old friend in a supermarket – she also had a child with a speech delay and after attending The Institutes her child was able to speak and lead a better life.
Real hope and a book
We had dinner with her and her son and were so impressed and overwhelmed by his progress and the methods used by Glenn Doman. They gave us real hope after several years of struggle. She gave my wife the book What to do with a Brain Injured Child and gave us tips on his diet. My wife read this book and became very interested in the program. We took the course in Singapore when Krishna was 7 years 9 months old.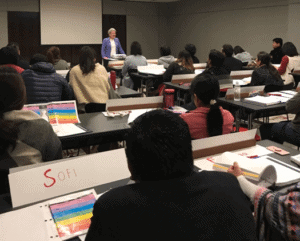 Mother and Father attended the course in Singapore
Ready and Excited!
It was a great course, a real eye-opener and we learned a lot about our son through the Developmental Profile. The most important lesson I learned was about brain growth – we needed to speed up Krishna's brain growth through multiple tasks. We knew it required hard work from both the child and parents, but we were very ready and excited.
We immediately made arrangements to visit Philadelphia with Krishna three months later. Krishna was  8 years old when we started the Intensive Program. He was unable to read, or write. He was hyperactive and his understanding appeared to be well below his age level. He had only a few words of speech.
In between, the What to do Course and his first appointment Krishna was already doing crawling, creeping and patterning.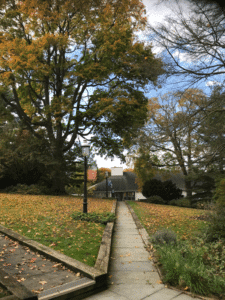 The Valentine Auditorium on the campus of The Institutes in the Fall
We quickly saw changes
The visit to the Institutes that fall was unforgettable as we had the opportunity to meet with the staff who were so passionate about Krishna and who really believed and supported him. We were there for four full days so we could have individual meetings with all the staff and doctors to learn as much as we could. We learned a lot about his diet, the supplements that he needs and the program which we have applied ever since. Krishna was drinking a lot of milk and eating food that contained high levels of sugar and gluten. We quickly saw changes in his behaviour and sleeping patterns after we eliminated milk and dairy products from his diet and also improved his diet with a rich intake of protein and cleaner food.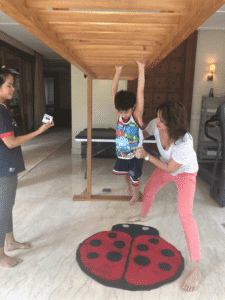 Krishna learns to brachiate
Krishna became less hyperactive, his tantrums were under control, there was less scratching and biting. We always noticed that Krishna had difficulties with this breathing but Krishna did such a diligent program that his respiratory and physical program has helped with this.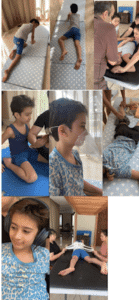 Krishna works hard every day to do a challenging program but it is paying off in substantial results.
Was Krishna always highly intelligent – probably!
However, Krishna's biggest victory would have to be with the reading and intelligence program. We were taught the Intelligence Program in Lecture II and honestly we found it extremely impressive and almost unbelievable that many of the kids in the program were well read, speed readers. I remember my wife and I having a discussion that it would be almost impossible for Krishna to achieve this and we always thought that Krishna's main strength was his physical ability.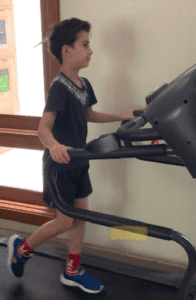 Krishna on the treadmill
However, we were always encouraged by the staff to observe how smart Krishna was and to realize how much potential Krishna had. We did the reading program every day at home and my wife and her sister spent much of their time making the reading cards so Krishna could learn new words on a daily basis.
We realize that Krishna is highly intelligent and a superb reader
We did our next visit in Tokyo seven months later. Krishna met with Miki Nakayachi. This is when Miki told us she was certain that Krishna could speed read. She showed Krishna a journal that was on her table, asked him to read and then asked him questions which he could answer. We were both very surprised but filled with joy and pride. Krishna was been reading ever since and is able to review whatever he reads too.
Now at 10 years of age,  he has a preference for books related to philosophy, religion, and finance, such books as Stephen Hawking "Brief Answers to the Big Questions", "Cicero's Orations" (he says what he learned from this book was the power of persuasion and that words can break or make me), "The Communist Manifesto" (his comments were having an idea is good but that idea cannot necessarily be applied to life – like communism, in theory, it looks good, but it didn't adapt to human nature so that's why it collapsed) "Rich Dad, Poor Dad" ( he commented – invest and save money, don't spend money on unnecessary things).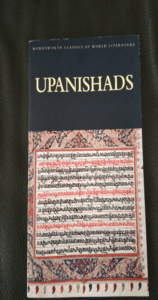 Krishna now reads at a very sophisticated level
Krishna's review of this book: "Upanishads is about Hindu philosophy and way of life. It explains the doctrine of karma – the knowledge of the self.  Enlightenment  is to look inward. Energy cannot be destroyed or diminished. Dharma, liberation, the ultimate end of suffering – Moksha. What you do today will influence your life to tomorrow. What I learned is that true self beyond the identity of the Ego. The eyes cannot see it, the mind cannot grasp it, the self does not have caste or race."
Krishna has a younger brother who was born at a very difficult time for the entire family as this was when Krishna was really regressing and showing a lot of problems. He could not stand the sound of his baby brother crying and would not sleep in the same room with him.
However, they are very close now and spend a lot of time together. They often do the physical program and go running together. Krishna likes having his brother with him. Often his brother will sit with him during his oxygen enrichment program to keep him company. His brother makes sure the interval between sessions is not more than it should be.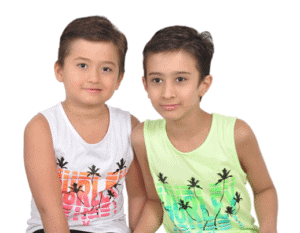 Krishna has a great relationship with his little brother now
Our hope for Krishna's future
We want Krishna to continue his development through the program so he is able to overcome his brain injury. We want him to continue to be happy and healthy and have a positive impact on society as he gets older. I hope he can show others that brain-injured children are very intelligent. They can have an important role to play in the future with the right program, and with guidance and support. I want Krishna to overcome these challenges and to help others and be a great big brother!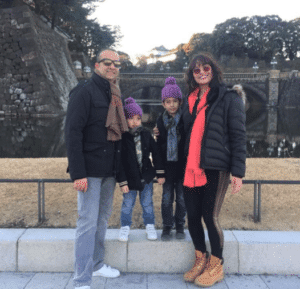 Parents are always the answer: Krishna's devoted family.
Note from the Staff
Krishna's parents could have accepted the prognosis and advice they were repeatedly given when Krishna regressed and lost his abilities. He could have been medicated, warehoused in an institution and forgotten. They did not accept such a fate for their boy.  We hope their example and Krishna's hard work will help thousands of parents around the world to reject false despair and fight for their child's right to a real life.