Destination: Fort Sanity
Our Families Are Back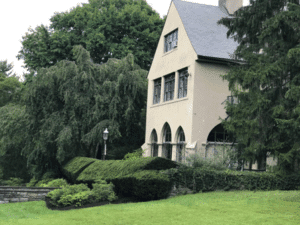 Clark Hall in August – a beautiful sight in any season
Our program is a home program which means that every family member from the youngest to the oldest has a part to play. It also means that every family member also enjoys the benefits of doing the program – better health, improved fitness, increased intellectual growth and the profound satisfaction of being part of  a fighting team determined to make sure the hurt member of the family is not left behind but has a real life ahead just like everyone else.
Every six months our families return for a fresh evaluation of what they have accomplished and a new program for the new kid who has emerged. They also return to be with the staff and to be with each other. It is a time to review, renew and refuel for the program ahead.
For the last 16 months that return trip has been impossible.
No more.
Our families are fighting their way back and it has been a joyous reunion for all.
So far we have had families from 3 continents and seven countries – Canada, Ecuador, Mexico, Russia, Serbia, Venezuela and, of course, the USA.        
We have welcomed families back from eight states – California, Arizona, Texas, Michigan, Florida, Virginia, New Jersey, and Colorado.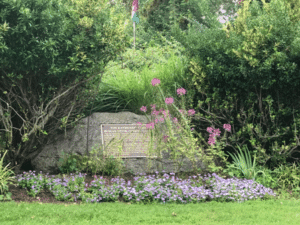 The garden that marks the spot where the first Human Development Course began.
"Thank you for evaluating our son and giving us a great plan of how to help him to achieve his potential. The plan we came home with has given me a direction of what to shoot for and a sense of his goals for each day. I no longer find myself wondering in bed late at night should I be doing more? Just simply for this I am eternally grateful. What a weight off my shoulders. Please convey our deepest thanks for everyone who has touched our lives at The Institutes."
Mother from California
 "I had two Victories, Talking and Health – one full year with no illness!" 
Child on the Intensive Treatment Program from Florida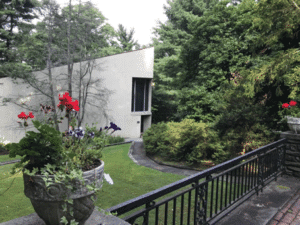 View of the Children's Center from the elegant terrace of Clark Hall
"My son is fully determined to achieve all of his goals after our visit, and make it to his next visit….he's already counting down the days for it!"
Father from Texas
"The best thing was all the new information, and the new program!" 
Father from Russia
"For me, the best thing was attending the Results Presentation, and the hands-on help with my mobility program."
Young man on the Intensive Treatment Program from Arizona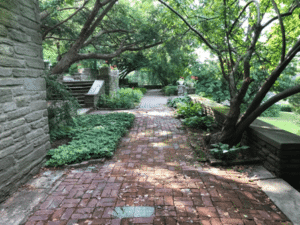 View of the lower terrace of Clark Hall
"To be here at The Institutes was the best thing!"
Mother from Canada
"The best thing for me was talking to the Staff and re-confirming how well my son is doing."
Mother from Florida
"The best thing was seeing all my son's improvements recorded and  setting his new goals."
Father from Florida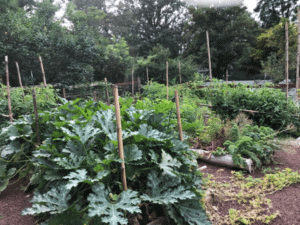 Our organic vegetable garden planted and tended by the staff and enjoyed by many!
"The best thing was looking at my daughter's long term progress with the Staff, and the good ideas for her social growth, too."
Mother from Colorado
"Thank you so much to The Institutes' Staff for meeting with us.  This is – as you can imagine – very life-changing for everyone In the family!"  
Father from New Jersey
"We were so happy to be on campus and to have our other boys with us, too. What a great experience for all of us!"
Mother from Michigan
"We were very happy to meet all the staff and now be part of The Institutes. Thank you to the Staff for all your care."
Father from Florida
"It was wonderful seeing the Staff in person!"
Mother from California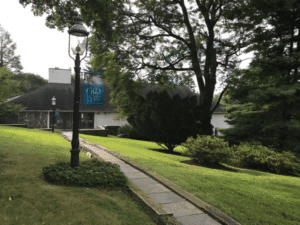 The sun is setting on the Valentine Auditorium but tomorrow parents and kids will arrive and make our beautiful campus even more beautiful.