A Cardiac Arrest, Brain Injury and a Poor Prognosis Didn't Stop Greta from Walking
Brain Injury Diagnosis Proves Incorrect
Greta was born by emergency C-section. After she was born, it was noted she had aspirated the amniotic fluid, and she needed a blood transfusion. The baby lost a great deal of blood, and her organs nearly failed. She went into cardiac arrest and required cardiac massage to revive her. She had no birth cry and breathed poorly. A diagnosis of brain injury was given to Greta.
Doctors told parents that she would remain in a vegetative state.
Her condition was very poor, and doctors told parents that she would remain in a vegetative state. Fortunately during the next few weeks, she began to recover and show some major improvements. However, an MRI showed lesions in the brain, and she was diagnosed with brain injury, spasticity, and mental retardation.
Greta's biggest problem in life was in mobility and manual function. She was unable to crawl, creep, or walk. She had no fine motor skills and could not pick up objects with her index finger and thumb. She had an obvious strabismus, and she could not feel hot or cold or painful sensation.
Brain Injury Diagnosis Sends Parents On Quest To Find Answers
Greta's parents learned about the book "What to Do About Your Brain-Injured Child" by Glenn Doman. They came to The Institutes campus in Fauglia, Italy, to attend the course there. Greta was 16 months old when her parents began combating the brain injury diagnosis with the program from The Institutes. Beside her mobility problems, Greta did not yet have any words of speech.
Parents began an intensive program at home to treat Greta, following the recommendations of The Institutes. First, they began providing the tactile stimulation needed to pattern the brain for crawling. Next, they gave her many opportunities to be on the floor, so she could use the tactile stimulation she had received to actually crawl. Intellectual stimulation followed and they began to teach Greta how to read. They carefully followed the guidelines in the book "How To Teach Your Baby to Read," also by Glenn Doman. Greta greatly enjoyed this part of her new program.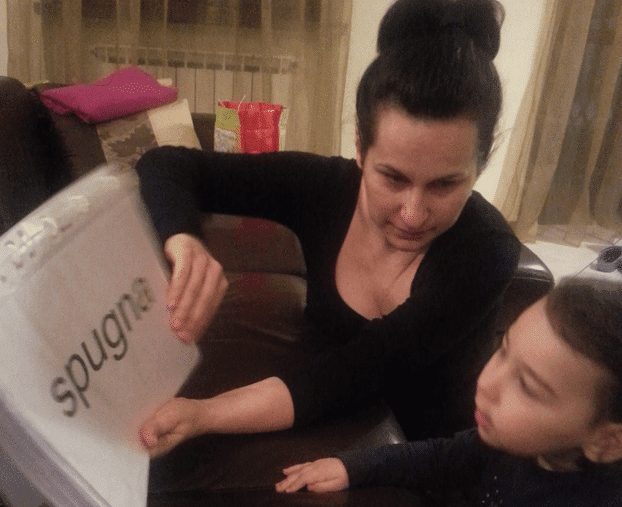 Greta loved to learn to read with the best teacher she will ever have – her mother.
After doing the program for 6 months, parents visited The Institutes again, but this time they brought Greta to be evaluated and to receive a new program designed for Greta by the staff.
Her mobility and intelligence started to improve immediately.
Greta had come a long way in just six months; she could crawl 60 meters daily and used this new ability to get all over the house. Her understanding had improved – now she easily followed 2- to 3-step instructions. Most impressively, she could read!
Soon after returning home, Greta began to get up onto her hands and knees to creep. Soon she was creeping everywhere for transport. She was now able to get around faster.
She began to creep!
When Greta returned to The Institutes for her second appointment, she was creeping up to 400 meters daily. She had started to say the names of her family members as well as "ciao." Intellectually she had caught up to her peers, and even surpassed them. She was now ready to start an encyclopedic knowledge program and a math program.
Now that Greta had learned to creep, she was ready to start to learn how to walk. The staff of The Institutes recommended that parents use the overhead ladder so that Greta could learn how it feels to walk. She walked over 200 meters daily under the ladder.
Parents receive the best Christmas present – ever.
On Christmas Day, Greta and her family received the best gift possible. Greta began to take her first independent steps. She has now started to walk, and can walk across a room all by herself. Here is a video taken recently of Greta showing off her new ability.
Greta has gone from immobility to walking. She is reading homemade books with content at a 7-year-old level. She is bright and follows directions well. Her language has exploded – she now says hundreds of words and has started to speak in phrases. She now has the ability to pick up objects using her index finger and thumb. She is very bright, and can type some words all by herself on a letter board. She is starting to type, despite being only three years old!
She is reading at a 7-year-old level, saying hundreds of words and beginning to walk.
Greta is not only smart, but she is also a very hard worker. She has worked every day with her family to achieve these incredible results. After a very rough beginning and a very poor prognosis, her parents did not lose heart. They looked for answers and they found a fighting chance for their little girl. They are another fine example of parents who are the answer, not the problem, when it comes to helping hurt kids get well. Greta is not done yet, but she and her family will continue to work so that she can really achieve her true potential.