Dx Infantile Spasms & Dystrophy of the Corpus Callosum: Anna Success Story
"Miracles Are Often Like Rose Petals Slowly Unfolding"
The story of Anna told by Mother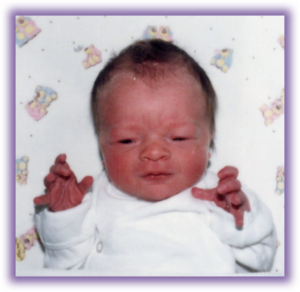 Born December 27, 1985
Birth
On a chilly December day, a miracle happened.  Our daughter Anna Marie was born.  She was a healthy little girl, eager to seek out and explore her new world.  Her proud sisters enjoyed her cooing and loved to play with this newest member of our family.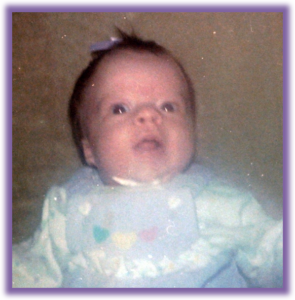 Happy baby at 3 months
Infantile Spasms
At five months of age, her life changed forever.  Anna suddenly squealed and stiffened while contracting her arms, legs, and head inward.  Little did we realize this was an outward sign of a monstrous problem, infantile spasms, a progressive illness that reverses brain development and often leads to death.  By the time we got her to the hospital, Anna's neurological development had regressed to a pre-birth level.  She no longer moved or made eye contact and her facial expression was very sad.  She totally lost her ability to communicate needs such as pain or hunger. For hours she would cry, unable to be comforted. In addition to the resulting brain injury, it was later found that a part of her brain, the corpus callosum was underdeveloped and other areas of her brain were missing.  By one year of age, we could prop her in a sitting position but the light in her eyes was gone.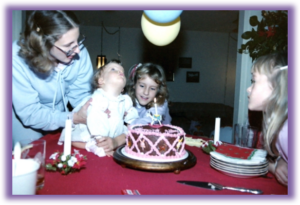 Anna's first Birthday
Miracles
Miracles are often like rose petals unfolding. So, it has been with the miracle of Anna Marie's recovery.
We took Anna to a healing Mass at the National Shrine of the Immaculate Conception in Washington, DC.  This is a VERY large basilica. The presider walked down the long aisle, came directly down our pew, and laid his hands on Anna. That week we had a follow up with the neurologist; her brain waves had unexpectedly returned to normal. Even though the infantile spasms had been stopped in their tracks, the effects of her brain injury remained.  After a second healing Mass, a total stranger told us of The Institutes for the Achievement of Human Potential.
The Program Begins:
Anna's growth skyrockets
When she was two and a half years old, she began the Intensive Treatment Program of The Institutes. Anna's neurological growth skyrocketed.  Before she turned three, she became a confirmed walker, and she learned to talk and read. Her first words were "Michelangelo Buonarroti". Her brain was building new pathways to take over the functions of the areas in her brain that had been injured or were missing!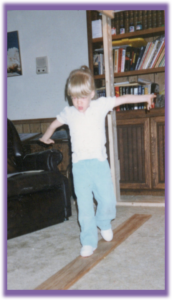 Beginning to use the balance beam
Program Continues:
It was as if Anna knew, this was the road that led upward.
Anna worked her way up The Institutes Developmental Profile through hours of crawling, creeping, walking, running, brachiating, and gymnastics. She had intense breathing and physical health programs.  Reading was always a joy. Writing came with much effort. Eventually, she wrote a letter to First Lady, Barbara Bush, asking her to tell the world about The Institutes Reading Program.  She was hypersensitive to touch and had a special tactile program. Everything was done with frequency, intensity, and duration, and with much love and from Anna, much, much perseverance.  It was as if she knew, this was the road that led upward.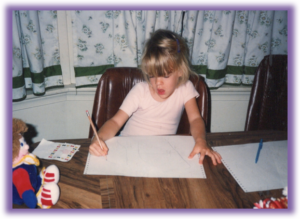 Anna learning to write her name
Family and Community:
We learned that people long for and
need an opportunity to help others. 
One might ask how a family does such an intensive program for a hurt little girl?  It became not only a family event but a community event.  In addition to our immediate family, we had thirty volunteers from Church and the community.  They would help with patterning, respiratory patterning and gathering and cutting a lot of materials for Anna's intellectual program.  After each return visit to The Institutes, we would invite her volunteers over and give them a much-anticipated update.
What we learned from all of this is most people long for and need an opportunity to help others.  Anna was giving them exactly what they needed. Anna helped grow a wonderful extended family.
Our house was always that house where children from the neighborhood gathered. The children often joined in with whatever Anna was doing and created interesting games and incentives to help her complete her program.  She moved forward from walking, to running, hopping, and jumping.  She took a few gymnastic classes as social opportunities and put on gymnastic demonstrations at The Institutes.  She also put on a reading demonstration for the What to Do About Your Brain-Injured Child course.
Her two sisters and even volunteers loved to make her books.  Volunteers also began bringing her interesting things for her to see, things related to her bits of intelligence program.  When Anna was learning about arachnoids, a volunteer captured a spiderweb on black paper.  This encouraged Anna to write a book about how a spider weaves a web.  A praying mantis egg sac, fossils, shells from Ireland, giant fall leaves wherever Anna's volunteers traveled they brought back treasures to her.  She began to collect, categorize, and write descriptive labels for Anna's "The Museum of Everything From Around the Whole World."
Graduation to Life: Anna is chosen to become a "Millennium Dreamer"
Anna "Graduated to Life".  We continued our program extending our activities out into the world.  When her grandmother was diagnosed with cancer, Anna learned to navigate the massive halls of Johns Hopkins Hospital.  It is so big; it has its own zip code and one can easily become lost!  Anna was still challenged with following directions in space.  This provided opportunity for her to grow in this area as she guided her Grandmother to all of her doctor appointments.
Haiti: Anna wanted to raise money for the orphans
Meanwhile her older sister went on to college and volunteered at an orphanage in Haiti.  Anna has always cared deeply for the poor.  She wanted to raise money for the orphans and so she opened her museum for tours and gave talks to children at a local school.  The children were inspired to raise money.  One group of boys went out to their garage to play, remembered what they had heard from Anna and started making large wooden crosses to sell at their school fundraiser.  It was a very successful event.
Millennium Dreamers
In the year 2000, Anna was chosen to be a Millennium Dreamer. 2000 children were chosen from around the world to represent the youth of the future.  They were brought together at Walt Disney World for a symposium to collect their ideas on what was important for the world of tomorrow.  Helping other children and the poor were top on Anna's list.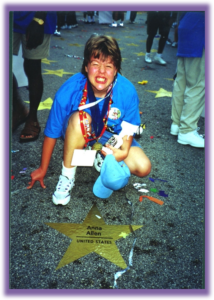 Millennium Dreamer Award
College
Anna has gone on to earn her Associate Degree with Honors in Early Childhood Development and works with children. She has a special gift when working with brain injured children. There is a special connection between them.
Graduation with Honors from Howard Community College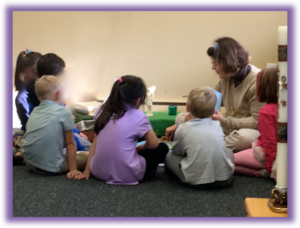 Miss Anna presenting a lesson
Program Continues with Grandchildren
This program was continued by our other two daughters with their children. They both went on to take the How To Multiply Your Baby's Intelligence course.  One moment I remember was when our three-yearold grandson came down after he had been tucked into bed. He told us a fact about the planet Pluto we had never heard. The next day I started reading a book he had and there was the unknown fact he had shared with us. That's when we realized he was reading and absorbing all that he read. I only wish all the children of the world had this opportunity.