Matthew's Success Story
Dx Congenital Absence of Corpus Callosum, Cerebral Palsy, Microcephaly and Arnold Chiari Syndrome
Can one little boy find his way to a real life?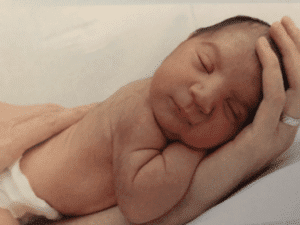 Matthew at birth
Like many first time parents, my husband and I were extremely excited when we found out that I was pregnant. The pregnancy was normal, I didn't have any sickness or problems, however, during a routine ultrasound the doctor saw that the baby's ventricles were a little large but he never made a big deal about it and just told us that boys have larger ventricles than girls and that we shouldn't worry about it.
As a baby Matthew was falling further and further behind
When Matthew was born we didn't notice any problems with him, however, his pediatrician felt that his tone was a little low but wanted to wait a couple of months to see how he developed. During his four month checkup he referred us to a neurologist as his tone wasn't improving and he wasn't meeting his milestones. We had to wait to see the neurologist for a couple of months and then another couple of weeks for the result of his brain MRI. The result showed that Matthew had partial agenesis of the corpus callosum.
We didn't truly understand the meaning of those words, the neurologist was vague and we left his office with devastating news and no guidance.
He could not eat solid food and was not gaining weight
On top of it, Matthew's appetite was poor, he started to vomit at the age of six months and wasn't able to hold anything down.  Even a little sneeze would make him bring his food back up.  Solid food was never an option for him. He got a G tube at the age of 1 as he was failing to thrive.
The tube didn't work for him, he was still throwing up every day and not gaining any weight. At that point we found out I was expecting twins and that my pregnancy was considered high risk. We were desperate to get Matthew gaining weight and looking healthier.  Another surgery was performed to do a G/J tube and that finally worked. Matthew, for the first time was able to gain weight and looked healthier.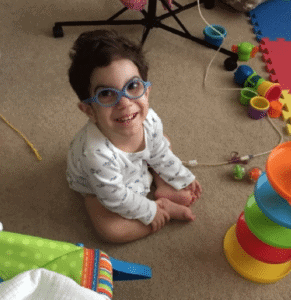 Matty at 18 months with G/J tube
Matty was still only crawling and he developed hip problems and a scoliosis
Unfortunately, in the mist of all of this, he developed scoliosis and his hips started to separate due to his spasticity. Matthew started on intensive physical therapy sessions, 3 hours a day 5 days a week. His upper body was extremely weak and his lower body was tight. The therapy sessions didn't help him move forward, he was still army crawling and his hips and scoliosis were getting worse.
During one of my midnight searches I stumbled onto The Institutes website. I called them, then attended the What To Do About Your brain-injured Child course and came back home with the hope that Matthew could get better and have a normal life.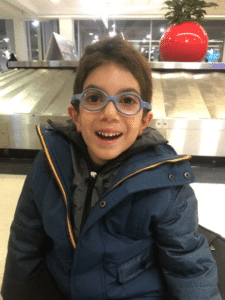 Matthew arrives in Philadelphia for his first appointment

Matthew surprised his parents at his first evaluation
Two months after taking the course, we brought him to get evaluated and came home with an extensive program for him. During the evaluation Matthew was able to see a large print book and his eyes opened wide in excitement!  He took that book and kept on signing "more, more". He wanted us to read the same book over and over again. We could not believe our son was enjoying reading and he wanted to get more and more information. This was an important and rewarding moment for us as parents.
After 18 months on the program Matthew is a different boy
Since we started the program a year and a half ago, Matthew now 6 years old, is now creeping 600 meters per day, saying many, many words, and eating blended food by mouth, not by tube.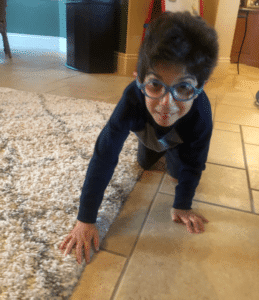 Matthew is happy to get the job done
He drinks water and many other liquids without any problem. He doesn't use the tube anymore. He started the program at 32 pounds now he weighs 42! He can read, do math and loves his encyclopedic knowledge program.

Now he is reading commercial books
Eight months ago during his orthopedic evaluation the surgeon couldn't believe the results. Matthew's hip X-rays showed that his separation was almost gone. He went from 50% and 25% spastic dysplasia to less than 10% on each. He will not need surgery!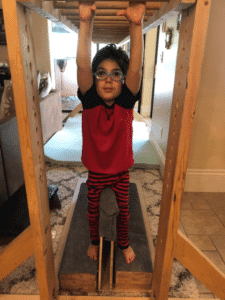 Matthew is able to stand under the ladder
We are now working on the overhead ladder to help him walk.
Overall Matty is doing much better on all levels. He is extremely responsive, understands better and reacts more quickly. Matty's articulation is improving, he is able to communicate better, it is a relief to be able to understand him better now. He creeps around the house and even on grass, and when he really wants something his creeping is extremely fast. He is very interested in learning, especially reading and math, and he is learning how to write now. He finds things funny and laughs like any other child. He is much more engaged with other people.
Thanks to The Institutes our son is getting better and stronger!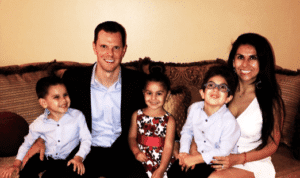 Matthew chose his family well they all work together every day to help each other